This post will show you how to search and replace URLs in Visual Composer using Search Regex. This is a great way to bulk-replace thousands of URLs in minutes! Just a word of caution, this is a potent tool; if you are not careful, it can easily brick your website.
How to replace URLs in visual composer:
Visual Composer / WP Bakery saves special characters (e.g., slashes, colons) as UTF-8 characters; to find and replace these in URLs, you will need to use UTF characters in the search string to bulk search and replace them within the backend of WordPress. You can see in the example below that you can remove URL slashes (e.g., %2F) in the search query.
%2F = /
%2Fsomeurl%2F = /someurl/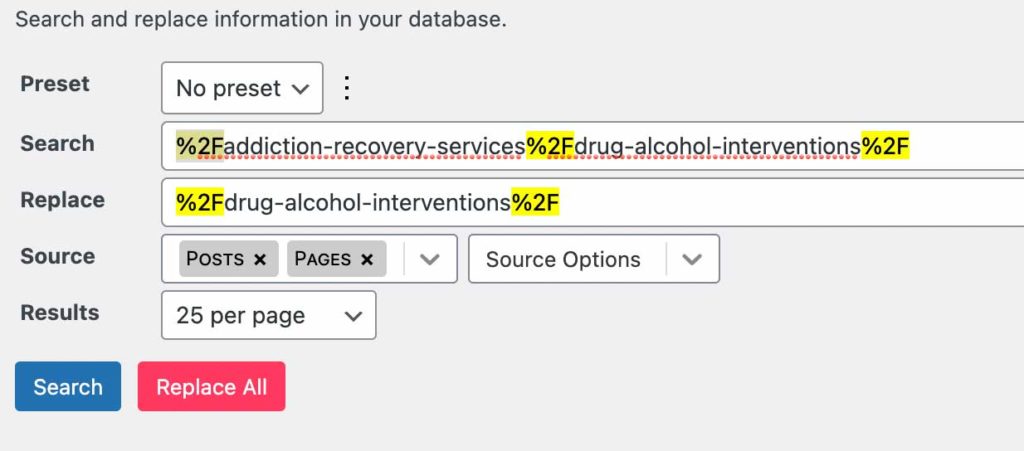 How to search and replace HTTP to HTTPS:
Using UTF-8 Characters in the Search and Replace plugin, you can streamline the process of removing mixed content. As you can see in the examples below, you can use http%3A%2F%2Fwww to find non-SSL URLs.
%3A = :
http%3A%2F%2Fwww = http://www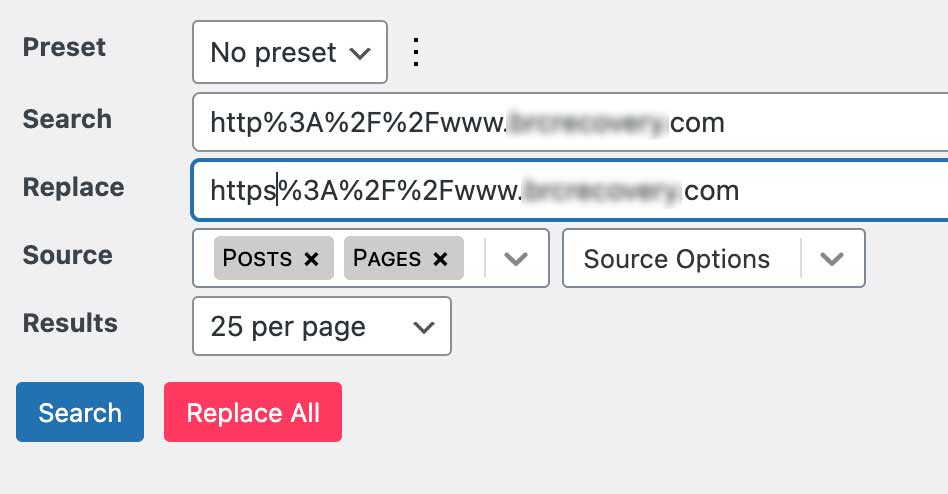 If the code you are trying to replace is not in my example, please use the cheat sheet below:
ASCII Encoding Reference
Your browser will encode the input according to the character set used on your page.
The default character-set in HTML5 is UTF-8.
| Character | From Windows-1252 | From UTF-8 |
| --- | --- | --- |
| space | %20 | %20 |
| ! | %21 | %21 |
| " | %22 | %22 |
| # | %23 | %23 |
| $ | %24 | %24 |
| % | %25 | %25 |
| & | %26 | %26 |
| ' | %27 | %27 |
| ( | %28 | %28 |
| ) | %29 | %29 |
| * | %2A | %2A |
| + | %2B | %2B |
| , | %2C | %2C |
| – | %2D | %2D |
| . | %2E | %2E |
| / | %2F | %2F |
| 0 | %30 | %30 |
| 1 | %31 | %31 |
| 2 | %32 | %32 |
| 3 | %33 | %33 |
| 4 | %34 | %34 |
| 5 | %35 | %35 |
| 6 | %36 | %36 |
| 7 | %37 | %37 |
| 8 | %38 | %38 |
| 9 | %39 | %39 |
| : | %3A | %3A |
| ; | %3B | %3B |
| < | %3C | %3C |
| = | %3D | %3D |
| > | %3E | %3E |
| ? | %3F | %3F |
| @ | %40 | %40 |
| A | %41 | %41 |
| B | %42 | %42 |
| C | %43 | %43 |
| D | %44 | %44 |
| E | %45 | %45 |
| F | %46 | %46 |
| G | %47 | %47 |
| H | %48 | %48 |
| I | %49 | %49 |
| J | %4A | %4A |
| K | %4B | %4B |
| L | %4C | %4C |
| M | %4D | %4D |
| N | %4E | %4E |
| O | %4F | %4F |
| P | %50 | %50 |
| Q | %51 | %51 |
| R | %52 | %52 |
| S | %53 | %53 |
| T | %54 | %54 |
| U | %55 | %55 |
| V | %56 | %56 |
| W | %57 | %57 |
| X | %58 | %58 |
| Y | %59 | %59 |
| Z | %5A | %5A |
| [ | %5B | %5B |
| \ | %5C | %5C |
| ] | %5D | %5D |
| ^ | %5E | %5E |
| _ | %5F | %5F |
| ` | %60 | %60 |
| a | %61 | %61 |
| b | %62 | %62 |
| c | %63 | %63 |
| d | %64 | %64 |
| e | %65 | %65 |
| f | %66 | %66 |
| g | %67 | %67 |
| h | %68 | %68 |
| i | %69 | %69 |
| j | %6A | %6A |
| k | %6B | %6B |
| l | %6C | %6C |
| m | %6D | %6D |
| n | %6E | %6E |
| o | %6F | %6F |
| p | %70 | %70 |
| q | %71 | %71 |
| r | %72 | %72 |
| s | %73 | %73 |
| t | %74 | %74 |
| u | %75 | %75 |
| v | %76 | %76 |
| w | %77 | %77 |
| x | %78 | %78 |
| y | %79 | %79 |
| z | %7A | %7A |
| { | %7B | %7B |
| | | %7C | %7C |
| } | %7D | %7D |
| ~ | %7E | %7E |
| | %7F | %7F |
| ` | %80 | %E2%82%AC |
|  | %81 | %81 |
| ' | %82 | %E2%80%9A |
| ƒ | %83 | %C6%92 |
| " | %84 | %E2%80%9E |
| … | %85 | %E2%80%A6 |
| † | %86 | %E2%80%A0 |
| ‡ | %87 | %E2%80%A1 |
| ˆ | %88 | %CB%86 |
| ‰ | %89 | %E2%80%B0 |
| Š | %8A | %C5%A0 |
| ‹ | %8B | %E2%80%B9 |
| Π| %8C | %C5%92 |
|  | %8D | %C5%8D |
| Ž | %8E | %C5%BD |
|  | %8F | %8F |
|  | %90 | %C2%90 |
| ' | %91 | %E2%80%98 |
| ' | %92 | %E2%80%99 |
| " | %93 | %E2%80%9C |
| " | %94 | %E2%80%9D |
| • | %95 | %E2%80%A2 |
| – | %96 | %E2%80%93 |
| — | %97 | %E2%80%94 |
| ˜ | %98 | %CB%9C |
| ™ | %99 | %E2%84 |
| š | %9A | %C5%A1 |
| › | %9B | %E2%80 |
| œ | %9C | %C5%93 |
|  | %9D | %9D |
| ž | %9E | %C5%BE |
| Ÿ | %9F | %C5%B8 |
| | %A0 | %C2%A0 |
| ¡ | %A1 | %C2%A1 |
| ¢ | %A2 | %C2%A2 |
| £ | %A3 | %C2%A3 |
| ¤ | %A4 | %C2%A4 |
| ¥ | %A5 | %C2%A5 |
| ¦ | %A6 | %C2%A6 |
| § | %A7 | %C2%A7 |
| ¨ | %A8 | %C2%A8 |
| © | %A9 | %C2%A9 |
| ª | %AA | %C2%AA |
| « | %AB | %C2%AB |
| ¬ | %AC | %C2%AC |
| | %AD | %C2%AD |
| ® | %AE | %C2%AE |
| ¯ | %AF | %C2%AF |
| ° | %B0 | %C2%B0 |
| ± | %B1 | %C2%B1 |
| ² | %B2 | %C2%B2 |
| ³ | %B3 | %C2%B3 |
| ´ | %B4 | %C2%B4 |
| µ | %B5 | %C2%B5 |
| ¶ | %B6 | %C2%B6 |
| · | %B7 | %C2%B7 |
| ¸ | %B8 | %C2%B8 |
| ¹ | %B9 | %C2%B9 |
| º | %BA | %C2%BA |
| » | %BB | %C2%BB |
| ¼ | %BC | %C2%BC |
| ½ | %BD | %C2%BD |
| ¾ | %BE | %C2%BE |
| ¿ | %BF | %C2%BF |
| À | %C0 | %C3%80 |
| Á | %C1 | %C3%81 |
| Â | %C2 | %C3%82 |
| Ã | %C3 | %C3%83 |
| Ä | %C4 | %C3%84 |
| Å | %C5 | %C3%85 |
| Æ | %C6 | %C3%86 |
| Ç | %C7 | %C3%87 |
| È | %C8 | %C3%88 |
| É | %C9 | %C3%89 |
| Ê | %CA | %C3%8A |
| Ë | %CB | %C3%8B |
| Ì | %CC | %C3%8C |
| Í | %CD | %C3%8D |
| Î | %CE | %C3%8E |
| Ï | %CF | %C3%8F |
| Ð | %D0 | %C3%90 |
| Ñ | %D1 | %C3%91 |
| Ò | %D2 | %C3%92 |
| Ó | %D3 | %C3%93 |
| Ô | %D4 | %C3%94 |
| Õ | %D5 | %C3%95 |
| Ö | %D6 | %C3%96 |
| × | %D7 | %C3%97 |
| Ø | %D8 | %C3%98 |
| Ù | %D9 | %C3%99 |
| Ú | %DA | %C3%9A |
| Û | %DB | %C3%9B |
| Ü | %DC | %C3%9C |
| Ý | %DD | %C3%9D |
| Þ | %DE | %C3%9E |
| ß | %DF | %C3%9F |
| à | %E0 | %C3%A0 |
| á | %E1 | %C3%A1 |
| â | %E2 | %C3%A2 |
| ã | %E3 | %C3%A3 |
| ä | %E4 | %C3%A4 |
| å | %E5 | %C3%A5 |
| æ | %E6 | %C3%A6 |
| ç | %E7 | %C3%A7 |
| è | %E8 | %C3%A8 |
| é | %E9 | %C3%A9 |
| ê | %EA | %C3%AA |
| ë | %EB | %C3%AB |
| ì | %EC | %C3%AC |
| í | %ED | %C3%AD |
| î | %EE | %C3%AE |
| ï | %EF | %C3%AF |
| ð | %F0 | %C3%B0 |
| ñ | %F1 | %C3%B1 |
| ò | %F2 | %C3%B2 |
| ó | %F3 | %C3%B3 |
| ô | %F4 | %C3%B4 |
| õ | %F5 | %C3%B5 |
| ö | %F6 | %C3%B6 |
| ÷ | %F7 | %C3%B7 |
| ø | %F8 | %C3%B8 |
| ù | %F9 | %C3%B9 |
| ú | %FA | %C3%BA |
| û | %FB | %C3%BB |
| ü | %FC | %C3%BC |
| ý | %FD | %C3%BD |
| þ | %FE | %C3%BE |
| ÿ | %FF | %C3%BF |