Sometimes you have repetitive content on your website, and you need to consolidate it.
Examples

Duplicate page content:
/seo/guide/
/guide/seo/
Evergreen content:
/seo-guide-2020/
/seo-guide-2019/
/seo-guide-2018/
Mixed pages & posts:
/guide/seo/
/blog/seo/
Repetitive content:
/blog/what-is-seo/
/blog/seo-basics/
/blog/seo-beginners-guide/
Which you'd like to consolidate articles into one all-encompassing page:
/ultimate-seo-guide/
How to consolidate content:

Keep track of all URLs (old + new) in a notepad or text editor
Set old pages you want redirected to draft mode.
Redirect old pages set to draft to the new page. I recommend the "Redirections" plugin.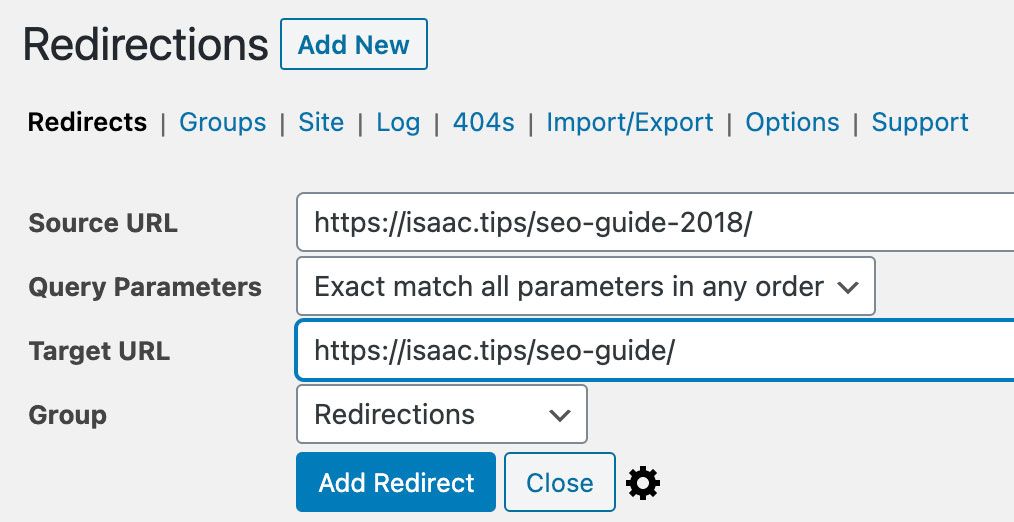 Using the Redirection Plugin (recommended):
If not already installed, install and activate the Redirections plugin
You can find the plugin settings under Tools >> Redirections in the WordPress sidebar menu
Click on "Add New" button
Add the old draft content URL to "Source URL"
(add the pretty URL e.g., isaac.tips/seo-guide-2018/ not the draft URL e.g., isaac.tips/?p=123)
Set the new article URL in "Target URL"
(always set to the final URL e.g., isaac.tips/ultimate-seo-guide/)
Press "Add Redirect"
Rinse + Repeat until all draft content has been redirected
Test for errors and redirect chains
If you don't set the old pages to draft, they will still be visible in sitemap.xml, creating mixed signals to Google Bots.
What to check:
Redirect chains: fixing and consolidating many pages at once; it's easy to create redirect loops. You can clear the cache and test yourself or run an SEO audit (SEMrush, Ahrefs, Screaming Frog)
Bonus tip:
The redirection plugin has a search option built-in to find pages; you just need to type the keyword to find the right page.